Description
(BROWNING X-BOLT 223 REM 22″ BARREL 5+1) Nothing works harder than a hunter. When the need calls for a hard-working, rugged and accurate high-powered rifle, the Browning X-Bolt Hunter is the only choice. Its low-luster finish on the solid steel receiver, barrel and Walnut prevents glare and reflection. It has the complete X-Bolt package: crisp Feather Trigger with no take-up or creep, preferred by experienced hunters, a center-fed Rotary magazine, X-Lock System and a soft Inflex recoil pad — every feature combines to make this X-Bolt rifle ideal for hunting deer and elk to varmints.
A step above in good looks. A satin gloss finish provides protection and enhances the natural beauty of the walnut. The high-grade Walnut stock with detailed checkering provides classic good looks.
| | |
| --- | --- |
| Product Name | Browning X-Bolt 223 Rem 22″ Barrel 5+1 035342208 |
| Brand | Browning |
| Action | Bolt Action |
| Barrel | 21.00″ – 23.99″ |
Browning is known for their excellent build quality, and a bit of a tendency to add gadgets on their rifles. The A-bolt, with its weird hinged magazine and BOSS tuning thing was a bit gimmicky. With the X-bolt, they've happily done away with the gimmicks and replaced them with some seriously high quality hardware.
The magazine itself is incredible. A high quality plastic rotary mag. It's light weight, yet feels so sturdy you could run it over with a truck. And here's a big plus over the Savage centerfeed: it accepts more than 2 wsm cartridges. In fact, it fits 3! I don't blast away willy nilly at deer, but it makes a heck of a lot of sense to have a mag that fits more than 2 rounds. Carrying over the quality, the mag "snick"s into place and does not rattle at all when moving with the rifle. The release is firmly in place on the rifle, further reducing moving parts on the mag.
The bolt is excellent as well. As a 3 lug design instead of the standard 2, it offers a shorter & faster 60° bolt throw. The bolt itself is a meaty piece of steel and it fits very precisely into the action. The precision is a bit of a downside, because it doesn't fly forward as readily as a looser bolt (hey, I have to pick on something) The bolt design is pretty tricked out: cocking indicator, 3 position safety, an unlock button, a very reasonable bolt release, and it looks so angular and sexy. Kind of like Angelina Joli in a rifle bolt.
The scope base mounts on the Xbolt use 4 screws each, making the shape of an X, and are called "X-Lock" (everything on a Browning rifle comes with its own special trademarked name.) The integrated base/rings are very solid and a great choice if you have your scope and rifle at the shop and can try a few out for optimal height.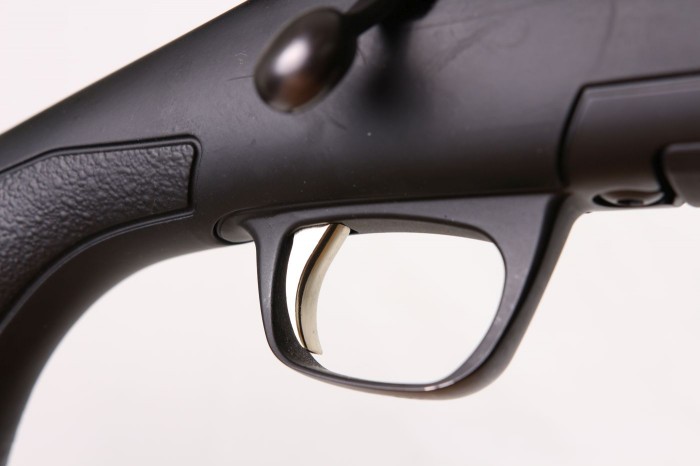 Feather Trigger
The Trigger on the X-Bolt is another premium part. Instead of a second safety trigger like a Savage Accutrigger or Remington Crossfire the trigger uses a simpler exterior interface and still breaks cleanly. The trigger feels pretty good.
The stock on the rifle I tested was synthetic, as will be most hunters xbolts. This is another area the Browning makes up for the premium price. The stock has grippy, soft touch surfaces on all the spots that matter, and a great fitting, and looking, buttpad at the back. The stock wrist is a bit thick, but it makes the rifle feel very solid. The forend doesn't flex at all, keeping the barrel well free floated. Nice touches like the Browning logo on the metal trigger guard really round out the complete premium feel of this rifle.
Accuracy on the model I tested was competitive with most bolt action rifles these days: 0.75-1″ at 100. Unless you go custom, semi-custom, or tailor handloads for your rifle, that's what is to be expected of most hunting rifles when you find a factory load they like. Unless you're reaching out to 600+, and you can shoot that well to boot, even 1 MOA is fine. With factory ammo that your rifle likes, you could push that max acceptable deer range to 800 providing you've got enough oomph, a great rangefinder, and accuracy to make the shot.
Conclusion
Like I mentioned up at the top, this isn't just a rifle to blast deer with. It's a better rifle to blast deer with. It feels better in the hand, it offers premium features that budget rifles do not, and it inspires confidence that your equipment will not fail you. If those appeal to you, a Browning just might be the right rifle.
bolt action, Browning, X-bolt