Description
(
ANGSTADT ARMS UDP-9 9MM 6″ BARREL 15+1 AAUDP09B06
) Angstadt Arms' UDP-9 Pistol utilizes a 7075-T6 billet aluminum receiver with appropriately sized ejection port and no forward assist or dust cover. And so the Angstadt Arms 5.5″ free-float M-LOK hand guard features a seven (7) side design that allows for 45 degree offset mounting options and a mil-spec 1913 Picatinny rail. So its barrel is chrome moly with black melonite finish, A2 style flash suppressor, and 1/236 threads. The UDP-9 Pistol also has a SB Tactical SBA3 pistol stabilizing brace with 5-position adjustable length of pull and an integral, ambidextrous QD sling socket, Magpul K2 pistol grip, and flared magwell. Included is one 15-round Glock magazine. This model has a 6″ barrel and a black hardcoat anodized finish.
| | |
| --- | --- |
| Type | AR Pistol |
| Action | Semi-Auto |
| Caliber | 9mm Luger |
| Barrel Length | 6″ |
| Capacity | 15+1 |
| Grips | Black Magpul K2 |
| Sights | None, Optic Ready |
| Weight | 5 lbs |
| Stock Material | Synthetic |
| Stock Finish | Black |
| Barrel Length Range | 10″ to 10.99″ |
| Weight Range | 5 lbs to 5.99 lbs |
9mm Luger
Black SB Tactical SBA3 Brace
6″ Threaded (1/2×36) Barrel
5.5″ M-LOK Free-Float Handguard
Accepts All GLOCK Magazines
(Buy The ANGSTADT ARMS UDP-9 9MM )So the Angstadt Arms UDP-9 Pistol is a compact AR-15 style firearm chambered in 9mm and so fed with GLOCK® magazines. And so it features the 5-position adjustable SB Tactical SBA3 Stabilizing Brace. Also includes a last round bolt hold open feature with an empty magazine and a flared magwell which both aid in faster reloads.
Features billet upper and lower receivers, so an integrated, oversized trigger guard, and a 1/2×36 threaded barrel to accept suppressors or muzzle devices. So it comes with an A2 style flash hider. And so he Angstadt Arms 5.5" free-float M-LOK handguard has a 7-side design that allows for 45-degree offset mounting options and combines with the upper to provide a continuous Picatinny top rail for accessory mounting.
Accepts all GLOCK aftermarket magazines, but Angstadt recommends the use of GLOCK factory magazines.
So he UDP-9 Pistol with SB Tactical SBA3 stabilizing brace is a compact AR-9 style firearm chambered in 9mm and fed with GLOCK(R) magazines. And so it features last round bolt hold open, an integrated trigger guard, flared magwell and a 5.5″ free float M-LOK hand guard with a modern, ergonomic, 7 side design. So machined from 7075-T6 aluminum the UDP-9 comes with a lifetime warranty. Includes one GLOCK(R) OEM 9mm magazine.
| | | | |
| --- | --- | --- | --- |
| Action | Semi-automatic | Caliber | 9MM |
| Barrel Length | 6″ | Frame/Material | Aluminum |
| Finish/Color | Black | Grips/Stock | SB Tactical SBA3 Pistol Stabilizing Brace |
| Capacity | 17Rd | Accessories | 1 Mag |
| Type of Barrel | 1:10 | Description | Angstadt Arms 5.5″ Free Float MLOK Handguard |
If you're looking for a top-line AR-9, Angstadt Arms has you covered on just about every front you could be looking at.
Last round bolt hold open, flared mag well, chrome-moly lined barrel, 1/2×36 threading on the barrel, Magpul grip, SB Tactical SBA3 Brace, and accepts standard Glock magazines — including the big 30+ round happy sticks!
Weight comes in at under 5 lbs and the OAL is 22".
At its core, the UDP-9 is a feature-rich AR platform "pistol".
What Is It For?(
)
Angstadt Arms makes a big deal on their site about the 1 magazine 2 guns idea. Basically, you have 2 guns that take the same magazines and assumably the same ammo also.
If you already CCW a Glock, getting an AR-9 that takes Glock mags has a lot of benefits to it.
First is cost, you don't have to buy all new mags. But also it just makes packing easier. Be it for the truck or an SHTF box or Bugout Bag, sharing mags is just handy.
Because of this intent that this isn't just a range toy, the UDP-9 has a higher build quality than many others on the market have.
If you want to use this as a truck gun or something, you can actually put your trust in it to work.
Range Report! (ANGSTADT ARMS UDP-9 9MM 6″ BARREL 15+1 AAUDP09B06)
So gun Prime helped us out with this review by sending the UDP-9 for Johnny to take out on the range.
And so he is pleased to say that his time with the UDP-9 was nearly perfect, flat out.
Fed a constant diet of the cheapest steel cased 9mm that money can buy, it is a feat of strength for a gun to run 100% on this crap — but the UDP-9 eat it up and spat it out.
So from 10 to 30-yards, accuracy was on point and impressive for an AR-9. Ringing a steel diamond was too easy.
Honestly, it is so hard to find much to talk about since… it just ran.
Something you might want to consider as a handstop of some kind to give you a little more protection from the muzzle, while we didn't run into issues — the peace of mind that comes with some finger protection would be nice.
Otherwise, load up on mags and hit it!
Somethings To Love (ANGSTADT ARMS UDP-9 9MM 6″ BARREL 15+1 AAUDP09B06)
Very often with an AR-9 pistol, so you see the manufacture cut some corners. And so these aren't totally unreasonable since they are trying to keep the cost down while also producing a product that doesn't have the same economy of scale that a normal AR-15 does.
Angstadt Arms had none of that.
Everything about the UDP-9 are the little things that you would expect from a top shelf AR-15 also. Flared magwell, M-LOK handguard, even the minor details like a deep and properly staked castle nut.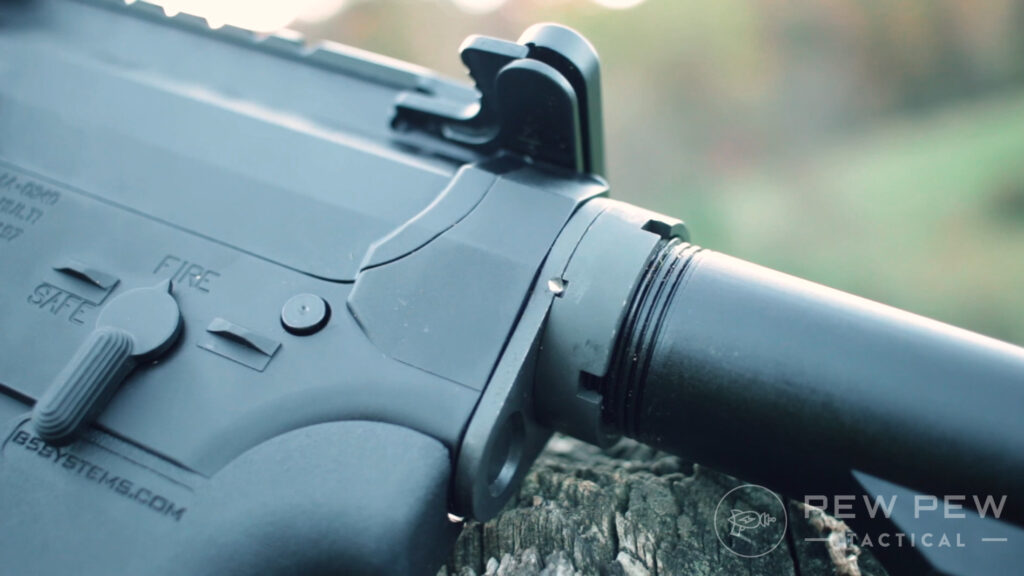 This is the kind of build quality that ups the price but is what is required to deliver a gun that you can really put your trust in. Not just for a range trip, but for life.
So The only speed bump we found was that the UDP-9 doesn't love to be loaded with totally full magazines on mags over 17-rounds.
This isn't uncommon for a lot of guns, so down load your happy stick by a round and you'll be good to go.